Everest Base Camp Trek for Seniors is specially designed for people above the age of 50. This trek to Mount Everest Base Camp is comparatively longer than the regular Everest Base Camp Trek. This trek extends for 19 days. However, you do not have to worry because you will not be continuously walking for 19 days. The basic walk you have to do is for 15 days only.
As the Elderly citizens are physically not as capable as regular trekkers the longer days with short camps are the best Everest Base Camp Trek available ever. Moreover, the trek takes you through the scenic beauty of the Everest Region, which will make you easily forget the trek difficulty of trekking to the base camp of Mount Everest.
The 19-day long Everest Trek usually, starts from Lukla. First, you land in Lukla on a twin otter flight. The Lukla Flight itself is the start of the adventure that you can feel from the beginning. The regular hike takes you to Phakding on the first day. The second day is quite longer which has a strenuous hike too. Namche Bazaar and elevation to above 3400 meters (11,150 ft.). Similarly, the fourth day will take you to an elevated place called Tyangboche, which is quite the place of Monastery. Once you reach Tyangboche, the religious spaces around make you feel the best out of the hard trek that you had till you reached here from Namche. From Tyangboche you will have the best view of the Mahalangur Mountain range where the lovely standing Mount Everest lies. Along with Mount Everest (8,848.86m./29,031ft.), you will beautifully spot Ama Dablam (6812m./22,349ft.),Lhotse (8,516m./27,940ft.),Nuptse (7,861m./25,790ft.), Khantega (6,782m./22,250ft.), Kongde (6,187m./20,298ft.), Thamserku (6,608m./21,679ft.), Taboche (6,495m./21,309ft.), and many more.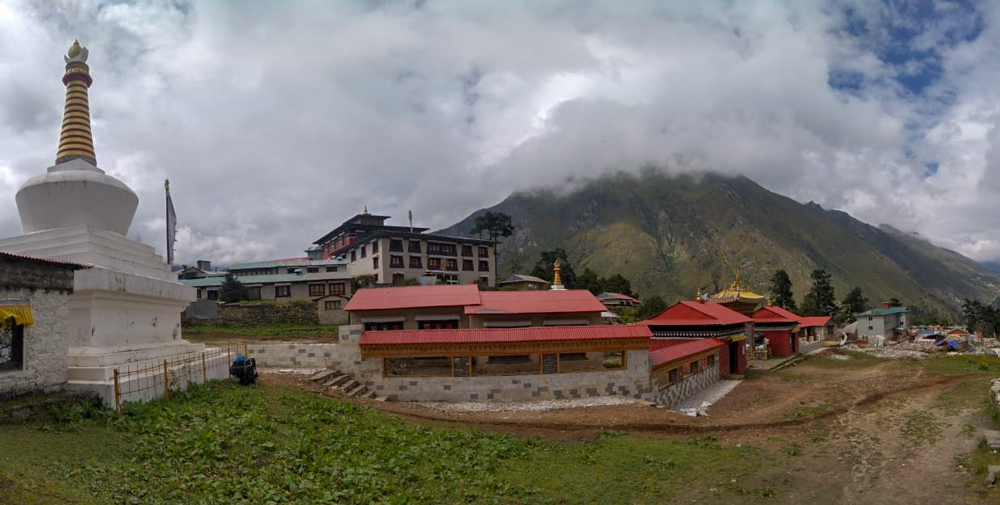 From Tyangboche, the fifth day even being easy to hike will take you to quite an elevation of 4400 meters (14,435 ft.) in Dingboche. The sixth day is your acclimatization day where you will have a short hike to an elevation of around 5100 m. (16,732ft.) to Nagarjuna Hill and rest in the lower elevation back in Dingboche again. From here as we elevate against the tree line, the oxygen level in the air will also be quite lower. So, understanding the condition of our elderly or senior citizens, we shorten the camps. The lower-distance camps will take you on an easy hike and easy elevation.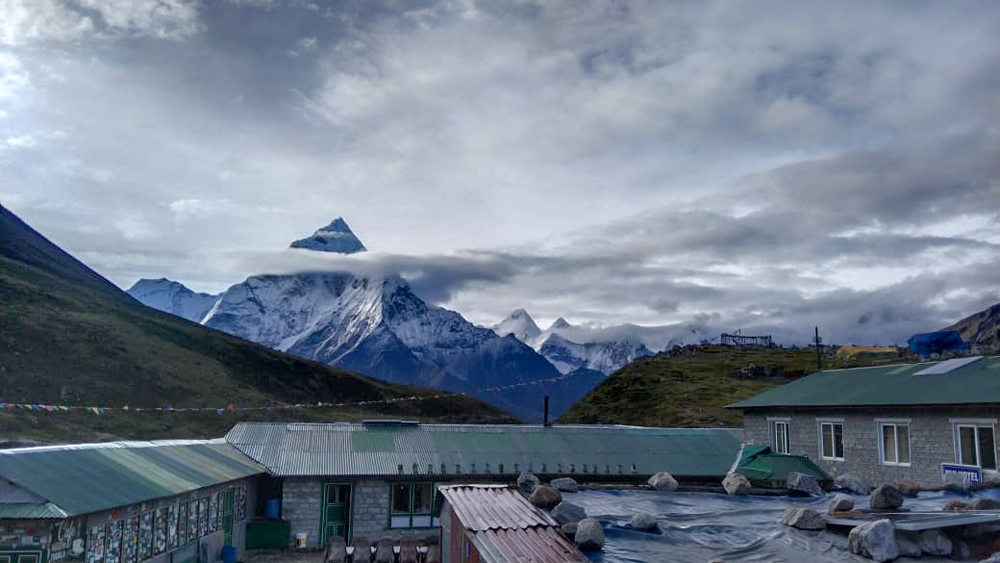 Hence, on the seventh day, we will only reach Thukla, which is just below the Everest Summiteers Memorial. On the eighth day, as we have already broken the earlier day in half, we easily hike to Lobuche passing through the memorial of the Everest Summiteers. Once we reach Lobuche in mid-day you can take enough rest there. This will help the elderly body to adapt to low oxygen levels, hence the altitude sickness too.
From Lobuche, on the ninth day, we have a strenuous and uphill hike towards Gorakshep. So, we gradually guide our trekkers towards the last human residence in the Everest region in Gorakshep. Gorakshep lies at an altitude of 5,160 meters. (16,929 ft.) But you don't need to panic for not having any residence in the Everest Base Camp. This is because we do not stay on the base camp of Mount Everest.
Once you reach Gorakshep, we understand that you have been too tired to walk ahead. So, we rest for the day and let our body adapt to the climate and elevation in Gorakshep. The tenth day is quite long. So, we start the hike early in the morning at around 4 AM usually. We hike this day to Kalapatthar. Kalapatthar is situated at an elevation of 5,545 meters (18192 ft.). From Kalapatthar you will see the best view of Mount Everest. Similarly, you can see the best sunrise view rising the sun from right behind Mount Everest.
After sunrise, we come down again to Gorakshep. After having a good and energetic breakfast in the hotel, we move towards the Everest Base Camp. Once you reach the Everest Base Camp, you will forget every hard time that you had till that date, because you will be surrounded by none other than the lovely mountains staring right at you and praising you. Thus, the trek to Mount Everest Base Camp ends here. We then start our hike back to Gorakshep and rest our day here.
Now, on the eleventh day, we start heading downhill toward Pheriche. The downhill hikes are easier and faster too. Similarly, on the twelfth day, we head up to Phortse village. The thirteenth day will take you to Namche Bazaar. Usually, the trekkers easily hike up to Lukla on their last day from Namche. But as the trails are quite uphill and downhill, we break this day too. So, on this day we will hike up to Phakding only. On the fifteenth day, you can easily reach Lukla and wait for your flight back to Kathmandu the next day. On this day you can memorize your trek, tip your guides and porters, as well as you can enjoy a lovely day in Lukla.
When you get back to Kathmandu, you can take an easy rest. After the rest, our team will take you to a Spa in Kathmandu and then during the evening, the HST team will take you for the Farewell Dinner in Bhojan Griha. After the typical Newari Dinner, you will be awarded the Trip Achievement Certificate, and our official trekking to Everest Base Camp will be completed.
What to Expect in Everest Base Camp Trek for Seniors?
The major feature of the trek is the longer trek and you can witness the Everest Region more beautifully than any other trekkers in the Everest region. Other trekkers usually take 8 days to reach the Everest Base Camp. We have made this itinerary specially for elderly citizens so that they take at least 10 days to reach the base camp of Mount Everest. This way, they can witness more of the trail, people, children, animals, flora, fauna, and many more. Let's start with the special features of the Everest Base Camp Trekking.
The first thing since you land in Lukla is you can witness the local people of the Everest region, the Sherpas. Sherpa term is usually used to describe the porters. But it is a wrong impression. All the Sherpas are not porters; thus, this is just a community. A lovely community whose major profession is tourism. Their hospitality is always the best that you can get during your whole journey. Most of the hotels, restaurants, pubs, and other shops are usually run by the Sherpas in the Everest Region.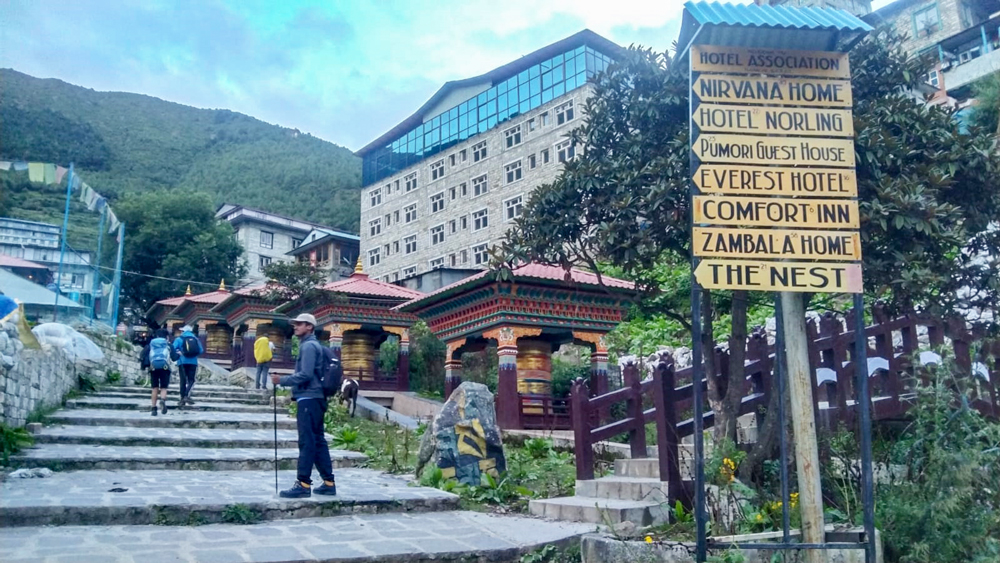 Many of the Sherpas are even found to be running well-equipped hospitals, and well-infrastructure Schools. This way, the people from the region have good accessibility to health as well as educational services. However, as you move ahead with the elevation, the services have been lesser since Namche Bazaar.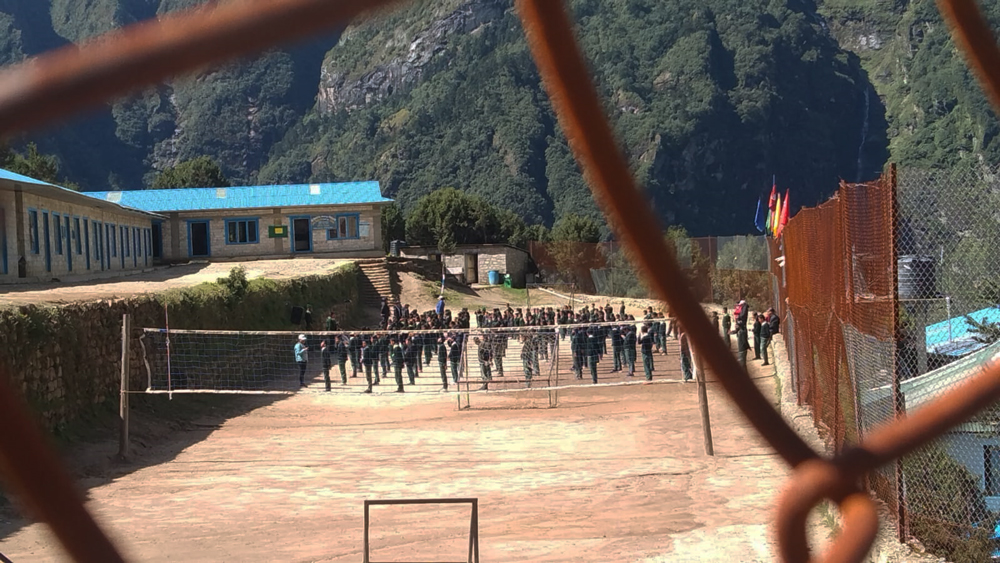 The next beautiful thing about the Everest Trek is the trail. The trail might be explained as a hard trek. We are not going to say that it is not hard. But all of the trek's difficulty can be seen in how well you are trained and how well you adapt to the environment of the mountains. If you have good physical fitness then you can find the trail easy. But don't worry, even if you are not strong enough. At least 3 months prior physical strength and endurance training can help you accomplish this beautiful trekking, no matter your age.
Moreover, you can witness beautiful animals like Himalayan Goats (Thar), Himalayan Pika, Lophophorous (Danphe; the Nepali National bird), Himalayan Musk (Kasturi), and if lucky enough snow leopards. The Sagarmatha National Park which covers most of the Everest region claims that there are 4 recorded Snow Leopards there. Similarly, if you talk about the plants there, the most famous one is the rhododendron (the national flower of Nepal). However, this flower only blossoms in the Spring. Similarly, the pine trees, Dhupi (Juniper), Titepati (Mugwort), and so many other herbs are also found throughout the trail. These herbs do not just showcase the beauty of the trek but also are really helpful in aiding you as herbal medicines for many diseases.
Now let's talk about the real deal of the Everest Base Camp Trekking Package which is none other than the mountains. As Solukhumbu is a mountainous district, from the time you land, you can witness the mountains. From unnamed to so many well-known mountains like Everest and Lhotse, you can tame your eyes the beauty from the beginning till the end.
The big peak that you can witness firsthand is none other than the staggering Thamserku peak while moving towards Namche Bazaar. From Namche Bazaar you can easily spot the peak of Kongde right in front of your eyes. As you move forward, before reaching Kyangjuma, there is a landmark of a Tibetan Stupa from where you can spot the extremely beautiful Ama Dablam. Not just this, but the first peak you witnessed Thamserku, its Northern face can also be seen from here. Along with that, you can have the best view of Khantega. If you move uphill to the Everest View Hotel, then no doubt Mount Everest stands ahead of you on sides covered by Mount Nuptse and Mount Lhotse.
The more you go ahead the mountains start seeming bigger to you. You can feel like you have been staying and walking on the lap of Imja Tse, Taboche, Lobuche, and many more peaks with a great blessing you have.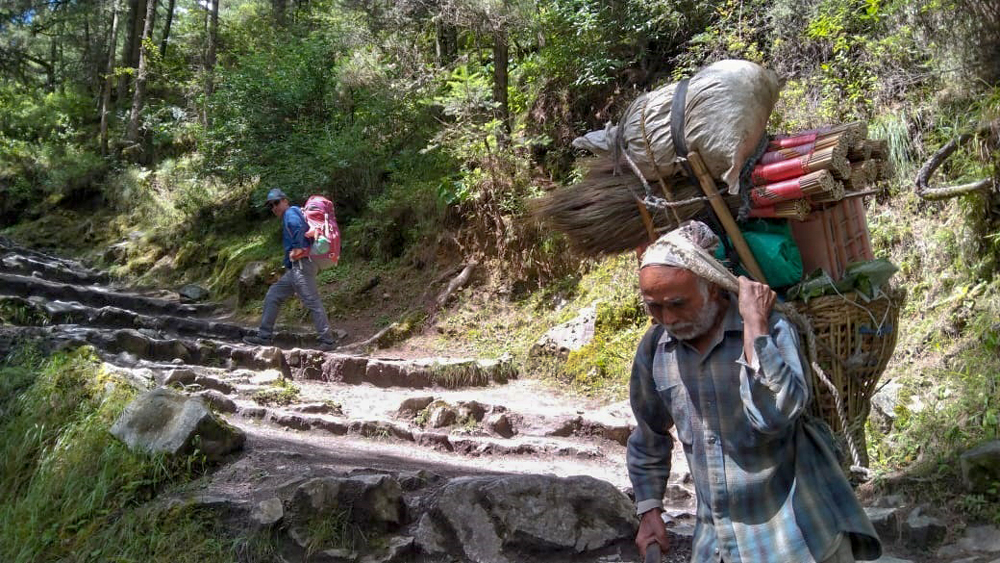 Best Time for Senior Citizens to do Everest Base Camp Trek
Once anybody goes to the Everest Base Camp, there is no doubt that you want an easy trek and no doubt that you need to have a lovely view too. Especially, for the seniors this Everest Base Camp Trek Package is designed in such a way that you would never miss the best view of the trail and staggering tall mountains. Here we have discussed the best time for trekking to the base camp of Mount Everest.
Spring (March to June)
The best time when the flowers bloom and the mountains are clear is none other than the Spring. In this season, you would not even feel too much cold, as the season is near toward the summer. In Spring, the white mountains are also so clear with open skies. However, the skies cannot be always open either, as you can see some spots of clouds sometimes, but not always.
The senior trekkers who are easily affected by the cold can choose the time from March to June to trek in the Everest Region and still succeed so easily without freezing.
Autumn (October to December)
October skies are the most open skies during the Everest Base Camp Trek. The mountains are clearly visible too. However, as this is the fall period of the year, usually the flowers do not blossom during these months. The days are also colder in Autumn, so we recommend you wear warmer clothes to prevent you from cold. Moreover, if you like the cold weather, Autumn is the best month for trekking to EBC.
Preparing for Everest Base Camp Trek for Seniors
To prepare for the trek, the primary thing is your physical endurance and strength. So, we recommend you train yourself for at least 3 months before the trek. You can enroll yourself in a gym, or hiking programs so often. This will easily help you to build strength.
The reason to prepare for the trek is due to its physically challenging terrain. Every day you will have to walk at least 5-6 hours with around 5-6 kgs of backpack on your back. This might hold you from walking. But if you are physically prepared the uphill walks with loads on your back can be easy for you.
Similarly, you also need to be mentally prepared. You better listen to your body first. And the main thing is many people have misconceptions about altitude sickness in the Everest Region. No doubt, that the oxygen level is quite low in the higher altitudes, especially above 4,400 meters (ft.). But not everybody gets altitude sickness. If you keep yourself hydrated most of the time and have enough food, then no doubt you can easily prevent altitude sickness.
Everest Base Camp Trek for Seniors Trekking Route
The Everest Base Camp Trekking Route for Seniors is similar to the regular trekking route. However, you will diverge the regular route from Somare towards Phortse to reach Namche. The regular trekking route is the same way back through Pangboche, Tyangboche, and Namche. But as for senior citizens, we have managed a simpler route to reach Namche with less uphill and downhill walking.
Basically, the Everest Base Camp Trekking Route starts from Lukla. You head towards Phakding on the very first day of the trek. On the second day, you head towards Namche, and you take one more of the rest here. Similarly, on the fourth day, the route takes you up to Tyangboche. From Tyangboche on the fifth day, our trekking guide will guide you up to Dingboche, which is comparatively high elevation but almost straight walk everywhere except for one place after lunch in Somare. From the spot where Pheriche and Dingboche are separated, you climb a 30-minute uphill that drives you to the lovely Imja Tse Valley where Dingboche lies.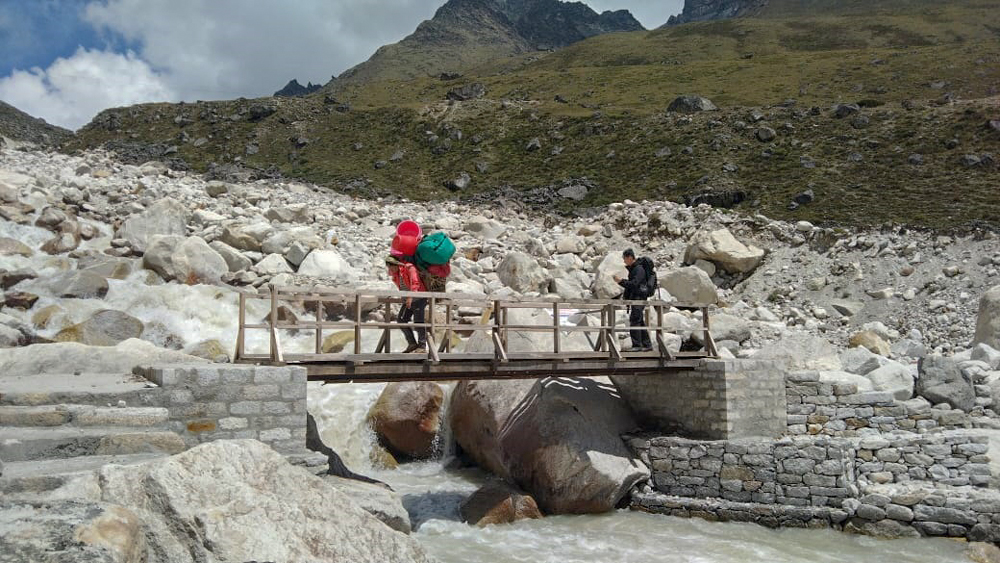 In Dingboche, we spend one more day acclimatizing, and on the sixth day, we hike up to Thukla. From Thukla on the tenth day, we head towards a big elevation of 4,990 meters (16371 ft.) in Lobuche. After that on the eleventh day, we hiked towards the last human residence of the Everest region; Gorakshep. We rest in Gorakshep for the day. The next early morning we head towards Kalapatthar first and return again to Gorakshep. Similarly, after a good breakfast, we can head towards our ultimate destination; the beautiful Everest Base Camp.
The return to Pheriche in a single day is similar to other trekkers. The next day rather than heading up to Namche, we break the regular trekking route and head towards a beautiful village of Phortse. But don't worry, you are not the only trekker in the region, you will find so many others choosing this route for the Ama Dablam Base Camp Trek. On the next day, we head up to Namche Bazaar. The evening rest here will help you realize the best out of your Everest Base Camp Trek moments.
Out of the final three days, on the first day, we head up to Phakding and rest there. And on the eighteenth day of your trek, you can get your feet back in Lukla and wait for your flight for the next day to Kathmandu.
Everest Base Camp Trek: Is It Right for Senior Citizens?
No matter what, there is always a query on whether the trek might be good enough for elderly citizens or not. And we proudly say that, yes, it is right for every senior citizen who has the spirit to do along with good physical endurance. For your information, the oldest man who has trekked to Mount Everest Base Camp was 73 years old (Niranjan Debnath from India).
The first thing you need to know is as you are going to the mountains nothing is predictable. However, if you listen to your body and your guide, then no doubt the trek is going to be on your side. You have to keep on drinking enough water and consuming enough food. Along with that as you move to a higher elevation, you might not have a good appetite, but forcing yourself to eat normally would give you enough energy. Similarly, getting enough rest and sleep at the hotel will always help you to get properly ready for the next day.
The best motivation you need to get in the mountains is, if you have come for the trek, then you got to complete it. So, staying safe, listening to your body and consistent trekking would always make the EBC trek successful.
Preventing Altitude Sickness during Everest Base Camp Trek by Seniors
The most crucial thing in the mountains is ascending the hills gradually. If you keep yourself walking faster, then your body will take time to adapt to the mountain environment. Thus, a slow but steady walk on the Everest Base Camp trail is the best way to avoid altitude sickness.
The next thing you need to be aware of is none other than the drinking water. Using electrolytes in purified drinking water can help you remain hydrated as well as it can give you enough electrolytes in your body. There is even confusion that in higher altitudes people usually do not sweat, but why would you need water? This is because, in higher elevation not just from your sweat but you will lose water even from breathing due to difference in atmospheric pressure.
The next thing you need to know is to carry the Acetazolamide tablets. These tablets help you acclimatize faster in the elevation. This way your body can try adapting faster. But remember these tablets are not the cure for altitude sickness.
Similarly, as you elevate, you need to avoid using caffeine, alcohol, cigarettes, and tobacco items. This is because these things usually do not give you a good time to rest and sleep. As a result, your body becomes lethargic most of the time, which is quite vulnerable to altitude sickness.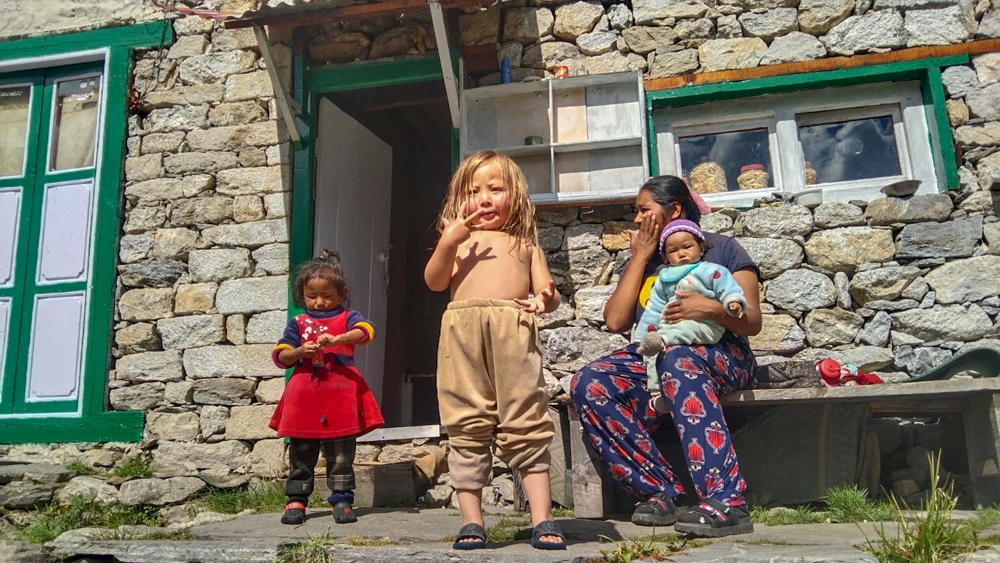 Last but not the least is to listen to your guide. The guides sent alongside you by Himalayan Scenery Treks and Expedition are well-trained for higher elevations. So, trust in whatever they say to make you accomplish the Everest Base Camp Trek.
Food and Accommodation during Everest Base Camp Trek for Seniors
Food
The Everest Region is a remote region with no road vehicles available. The only way of transport there is the air transport. The airplane lands in Lukla, which usually carries the food items from Kathmandu. After that, the food is carried by porters, Yaks, Jopkes, and Mules up to any hotels till Gorakshep.
So, almost every kind of food is available on the Everest trek.
Even if any of the senior citizen has some diet restrictions Himalayan Scenery will be able to manage that. Just inform the team during your inquiry. We will manage the best diet plan as per your request. More than that, if you do not have any diet restrictions, then we recommend that you eat local food like lentils, rice, pickles, and vegetables. These are the best foods that give you energy on the mountain trails.
Accommodation
During the trek of EBC, the hotels have shared rooms available in hotels. Usually, our team also manages the shared room in the region. Usually, these rooms do not have attached bathrooms in them. So, you have to use the commonly available bathroom in the region.
However, there is another package of Everest Base Camp Luxury Lodge Trek which you can easily choose to go with. This package will allow you to have a luxury room with an attached bathroom and sometimes even electric blankets from the hotels. This way you can easily and warmly accomplish your trekking even during the Autumn.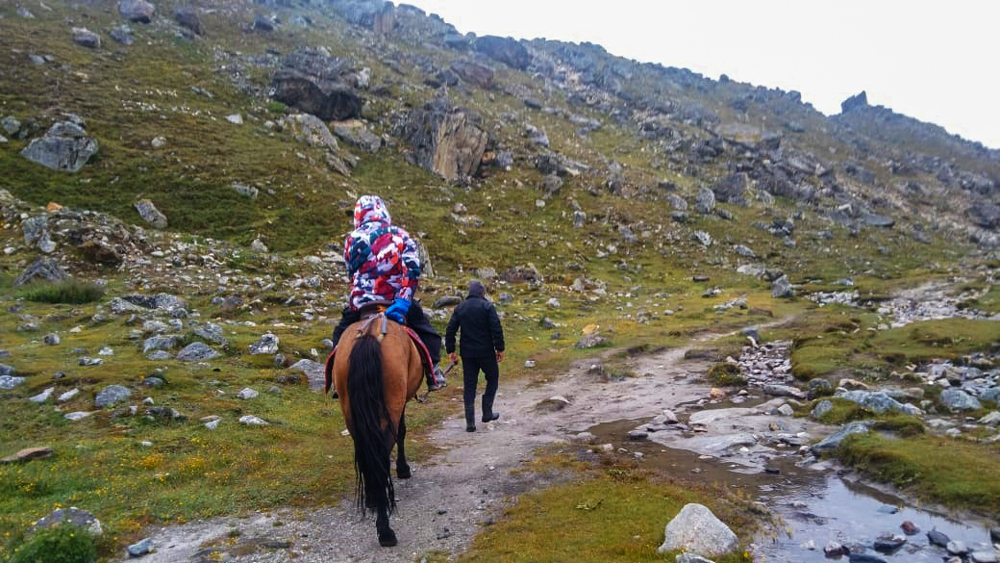 Everest Base Camp Trek for Seniors Cost Breakdown
The cost of Everest Base Camp Trek for Seniors usually ranges from $1,700 to $2000 in general. This package cost includes your Lukla Flight cost, permits, guide, porter (their salary, food, and accommodation), meal, and accommodation for you. However, this cost does not include any kind of extra expenses.
The following table briefly describes the cost breakdown of the trek for senior citizens:
Everest Base Camp Trek Cost for Seniors
No. of Trekkers
Cost Per Person in USD
1-2 Trekkers
$1,999/-
Send Inquiry
3-6 Trekkers
$1,899/-
Send Inquiry
7-12 and Above Trekkers
$1,700/-
Send Inquiry
Food and Accommodation Cost
On the Everest Base Camp trail, the places to stay and eat might seem a bit expensive to many hikers. But there's a good reason for that. This area is very remote, and the only way to get there is by flying. So, the prices you pay for food and rooms are reasonable given the circumstances.
When it comes to food, you can expect to pay anywhere from $10 to $20 for a single meal, which includes both food and a drink. If you want something extra special, it might cost more, sometimes even over $30.
As for the rooms, you'll usually be sharing with another traveler. During the busiest times, rooms along the trail cost around $7 to $15. The higher you go on the trek, the more expensive they become. At this regular price, you get a basic room with no bathroom inside. But if you want a room with an attached bathroom, it can cost anywhere from $25 to $300, or even more.
Here's a simple table that shows the different costs for hotel rooms on the Everest Base Camp Trail:
Basic Room (shared): $7 to $15
Room with Bathroom: $25 to $300 or more
Permits and Guides for Everest Base Camp Trek for Seniors
Permits
For this trek, you need two special papers called permits. You can get a local government permit in Chheplung, near Lukla. You can buy the National Park Permit at the entrance of Sagarmatha National Park in Monjo, which is along the way.
These permits are called the "Khumbu Pasang Lhamu Rural Municipality Entrance permit" and the "Sagarmatha National Park Entry permit."
The good news is, that when you go on our Everest base camp trek with us, the price you pay already includes the cost of these permits. You don't have to spend extra money on them. Plus, our team takes care of getting these permits for you, so you don't have to worry about it. It makes your journey very easy.
Just to give you an idea, the Khumbu Pasang Lhamu Rural Municipality Entrance permit costs NPR 2000 plus VAT, which is 13%. And the Sagarmatha National Park Entry permit costs NPR 3000 plus the same VAT of 13%.
Guide
Before the year 2023, people could go trekking to Everest Base Camp all by themselves, without a guide. But things changed in 2023, and now it's not allowed for travelers to go alone on treks in Nepal, including the one to Everest Base Camp. They want to make sure everyone stays safe during their journey, so they require you to have a guide with you.
Guides are like travel buddies who help you have a good and safe time on your trek. They know the best places to stay and eat along the way, and they make sure you don't get tricked by anyone. Having a guide also means you're less likely to get into any dangerous situations.
What's really cool about these guides is that they know how to handle tough situations, especially in high places where it can get really cold and tricky. They also know how to give first aid if someone gets hurt. And here's the best part: you don't have to pay extra for a guide because the cost of the guide is already included in the price of your trek.
What after the Trek Ends?
At Himalayan Scenery Treks & Expedition, we strive to provide a truly Nepali experience to our trekkers. Even after you've completed your trek in the mountains, we continue to take care of you. As a special farewell, we invite you to enjoy a delightful Nepali Farewell Dinner at a charming local restaurant known as Bhojan Griha.
You might wonder why we chose Bhojan Griha when there are many other restaurants in Kathmandu. Well, it's because we love its wonderful ambiance, delicious food, and the traditional Nepali performances that take place during dinner. It's our way of immersing you in the rich culture of Nepal.
At Bhojan Griha, they serve food in the Nepali style, allowing you to experience the local dining customs. During dinner, you'll also have the opportunity to witness captivating dances performed by members of Nepal's indigenous communities. What's more, the food they serve there is sourced from our very own organic farm in Bhaktapur, ensuring freshness and quality.
After this special dinner, we present each trekker with a Trip Achievement Certificate for successfully completing the Everest Base Camp trek. It's our way of commemorating your journey filled with Nepali flavors, the exhilarating trek, and the wonderful memories you've created with us at Himalayan Scenery Treks & Expedition.
Booking, Payment, and Cancelation Policy
Booking
When you decide to go on the Everest Base Camp Trek with Himalayan Scenery Treks and Expeditions, you're in for an amazing adventure.
To make sure you get a spot, it's important to book early. You'll need to give us 20% of the total cost of the trek along with a copy of your passport as a deposit. The rest of the money can be paid at our office at least one day before your trek starts. You can choose how you want to pay – either with cash, a card, through an online transfer, or a bank transfer. Just remember, if you use a card, there's an extra 4% charge from the bank.
For booking:
Contact: Ramkrishna Timalsina (+977-9851083619) WhatsApp.
E-mail: info@himalayanst.com OR,
Click here
Payment
Once you've made your first booking, it's really important to pay the full amount at least one day before your trek starts in Kathmandu. When we get all your money, Himalayan Scenery Treks and Expeditions will give you all the papers and confirmations you need for your trek.
You can pay in different ways, like using cash, or a card, sending money online, or through a bank. But if you use a card, remember there's an extra 4% charge from the bank.
Cancelation and Refund Policy
We know that sometimes, travel plans can change unexpectedly, and we get it. Here's our policy for when you need to cancel your trip:
The 20% deposit you paid when booking your trip can't be refunded if you decide to cancel. But don't worry, you can reschedule your trip for a later date.
If you've paid for the entire trip and then decide to cancel 20 days before it starts, we can give you back 50% of the money you paid.
However, if you cancel the trip just 7 days before it's supposed to begin, we won't be able to give you any money back.
If, for reasons beyond our control like really bad weather, we have to cancel the trek, we promise to give you a full refund of your deposit.
Important note: If you need more time for your trek or if you can't do it at all and someone else can take your place, we're happy to help with that. We won't charge extra for transferring your trek to someone else.