Imagine this: You've arrived in Kathmandu, Nepal, with one dream in mind - to witness the awe-inspiring beauty of Mount Everest and other majestic eight-thousanders. You've heard about the Everest Mountain Flight tour, and it promises to fulfill your dreams in just one hour. This experience allows you to soar above the Himalayas and witness a breathtaking bird's-eye view of these magnificent peaks.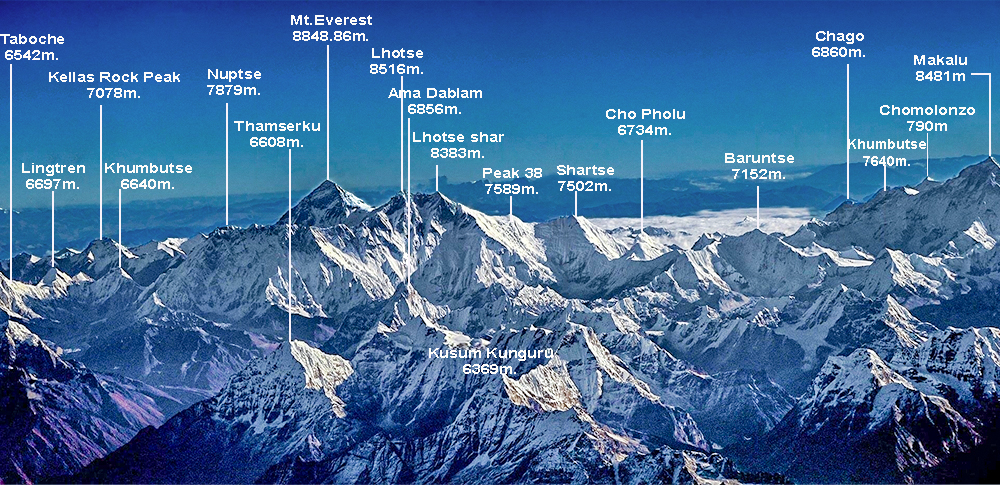 The Everest Mountain Flight in Nepal is not just about Mount Everest; it's a panoramic journey that takes you closer to several renowned peaks. First and foremost, you'll be treated to an unrivaled view of Mount Everest itself, the highest point on Earth, standing tall at 8,848.86 meters (29,029 feet). This iconic peak, known locally as Sagarmatha, is an absolute highlight of the tour.
But the adventure doesn't stop there. As you glide through the skies, you'll also behold the towering Lhotse, the fourth-highest mountain globally, reaching an impressive altitude of 8,516 meters (27,940 feet). The sight of Nuptse, which stands adjacent to Everest, is equally awe-inspiring. This peak rises to 7,861 meters (25,791 feet) and adds to the grandeur of the Himalayan vista.
Gaze upon the stunning Makalu, the fifth-highest mountain on the planet, at an imposing 8,485 meters (27,838 feet). And if that's not enough, you'll also have the privilege of witnessing Cho Oyu, the sixth-highest peak, soaring to a staggering height of 8,188 meters (26,864 feet). These towering giants are among the world's most challenging summits and are all within your sight during the flight.
As you soar over the Kathmandu Valley and these magnificent peaks, the cost of this unforgettable experience is a small price to pay for the memories you'll create. This mountain flight tour is not just a journey; it's an adventure that will make you feel as if you've transformed into an eagle, gliding effortlessly through the sky. Book your Everest Mountain Flight with Himalayan Scenery Treks & Expedition and prepare for the experience of a lifetime.
This trip is an alternative for you to many other trips around the Everest region. You can avoid trekking to Everest Base Camp. You can also avoid Helicopter flights to Everest Base Camp. Similarly, as you will see every glacier and glacial lake like Gokyo Lakes and Khumbu Glacier, it's an alternative to those walks too.
What to Expect in Everest Mountain Flight?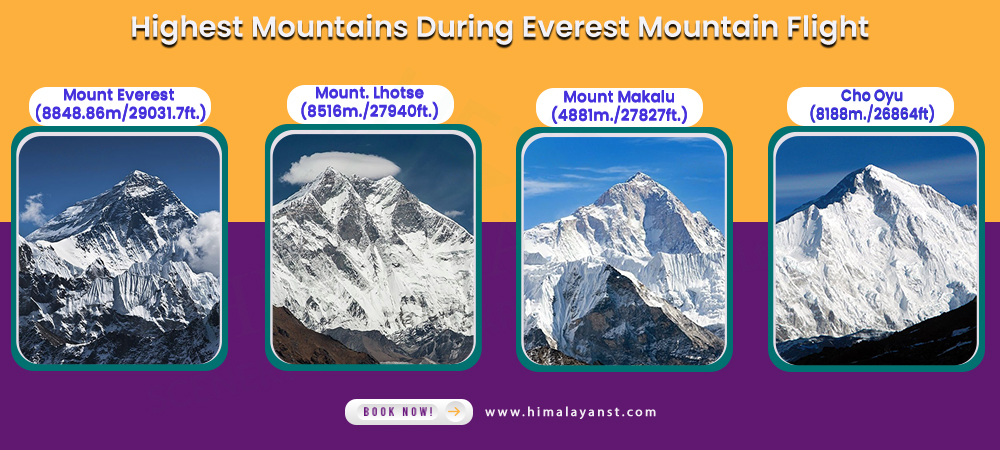 The mountain flight promises an unforgettable adventure filled with breathtaking mountain views, a chance to explore the Kathmandu Valley from above, and the opportunity to receive a trip achievement certificate. Airlines like Yeti Air, Buddha Air, and Shree Airlines provide exceptional service to ensure your journey is safe, comfortable, and truly memorable.
Here's what you can expect during this remarkable adventure:
Spectacular Mountain Views: During the flight, you'll get up close and personal with some of the world's most majestic peaks. These include Mount Everest (8,848 meters), Lhotse (8,516 meters), Nuptse (7,861 meters), Makalu (8,485 meters), and Cho Oyu (8,188 meters). You'll be treated to unobstructed views of these towering giants, each with its unique charm and grandeur.
Majestic Skies: As you soar through the Himalayan skies, you'll witness breathtaking vistas and a celestial canvas that only the Himalayas can offer. The crisp, clear air and the stunning play of light and shadow on the mountains make this experience truly magical.
Kathmandu Valley: Your flight will take off from Kathmandu, and as you ascend, you'll have an opportunity to appreciate the sprawling beauty of the Kathmandu Valley below. The valley is surrounded by verdant hills and dotted with ancient temples and settlements, providing a captivating contrast to the towering peaks.
Other Hills of Nepal: Apart from the prominent peaks, you'll also have a chance to spot other notable hills and ridges across Nepal. While the specific elevations may vary depending on the flight route, you might catch glimpses of the Langtang Range, the Annapurna Massif, and the Gauri Shankar Range, among others.
Window Seat Guaranteed Package: Once you book the trip with Himalayan Scenery Treks & Expedition, we offer window seat guaranteed packages for this flight. This means you can secure a seat by the window to ensure unobstructed views of the mountains and landscapes below.
Trip Achievement Certificate: After completing the one-hour flight, the airlines provide passengers with a "Trip Achievement Certificate." This certificate serves as a memento of your incredible journey above the Himalayas and can be a cherished keepsake of your adventure.
Photography Opportunities: Don't forget to bring your camera or smartphone. This flight tour in Nepal offers numerous opportunities to capture stunning photographs of the mountains and the Himalayan landscape. The airlines typically allow passengers to move around the cabin for better photo angles.
How much does an Everest mountain flight cost?
This Everest Flight cost for a traveler is discussed in the table below:

Everest Mountain Flight Cost for Indian
For an Indian, we have mentioned a detailed breakdown of the cost you need to pay for the flight to Mount Everest. However, please be sure that there will be an added cost separately for the transportation service from the hotel to the airport and vice-versa.
Everest Mountain Flight Cost for Indian

| | |
| --- | --- |
| Heading | Cost Breakdown |
| Per Person Flight Cost | INR 8,800/- |
| Transportation by Car | $15 |
| Transportation by Van | $20 |
| Transportation by Jeep | $25 |
| Transportation by Hiace | $40 |
Top tips for picking your seat
When selecting your seat for this flight in Nepal, here are some top tips to ensure you get the best possible experience:
Arrive Early: While you won't be able to select your seat online for this flight, it's a good idea to arrive at the airport early. Early check-in can improve your chances of getting a seat preference. Remember that seats are typically assigned on a first-come, first-served basis at the airline counter.
Backseat Advantage: The best seat you can hope for on a Mountain Everest sightseeing Flight is often the one at the back of the aircraft. This is because you won't have a large plane wing obstructing your view of the mountains. When you check-in, inquire about the availability of seats at the rear of the aircraft.
Be Flexible: If getting a seat at the back isn't possible due to high demand, be flexible with your seating preferences. Every seat on these flights typically offers a window view, so don't worry too much about the exact location.
Consider the Left Side: While the wing can obstruct the view on both sides of the aircraft, some travelers prefer the left side. The pilot often circles Everest in a clockwise direction, so the left side of the plane might have a slightly longer view of the mountains during the flight.
Plan Ahead for Photos: If you're a photography enthusiast, keep in mind that the seats on the right side of the plane during the clockwise circle may offer better opportunities for photos. However, this can vary based on the flight path.
Avoid the Middle: If you have a choice, try to avoid sitting in the middle of the aircraft. The views might be slightly less impressive from these seats due to the wings.
Stay Safe: Regardless of your seat, remember to follow all safety instructions from the flight crew. Keep your seatbelt fastened when required, and don't lean too far over other passengers to take photos.
Remember that while getting the perfect seat is desirable, the primary goal of this flight is to witness the majestic Himalayas. No matter where you sit, you'll have the opportunity to enjoy this incredible natural spectacle.
What does the plane look like for your Everest mountain flight?
As you prepare for your journey with airlines like Buddha Air, Yeti Air, or Shree Airlines, you'll experience a unique adventure. The aircraft used for these flights are small turboprop fixed-wing airplanes. They are designed to provide stability and maneuverability in the challenging Himalayan terrain.
When you arrive at the airport, you'll join fellow passengers on an airport transfer bus, and head towards the aircraft. Once on board, you'll notice the seating arrangement – two seats on either side of the aisle. The standout feature here is that every seat is a guaranteed window seat. This ensures that every passenger has an unobstructed view of the majestic mountains.
The airlines prioritize passenger safety and comfort, making your flight a smooth and enjoyable experience. You'll receive a small booklet or pamphlet containing information about the mountain range you'll be flying over. This handy guide allows you to identify the peaks you'll see outside your window.
During the flight, the flight crew, including the hostesses, are more than just attendants; they are knowledgeable guides. They will gladly share information about the mountains you're passing, helping you identify and name the peaks as they come into view.
Is an Everest Flight worth it?
First and foremost, the flight grants you an astonishing opportunity to gaze upon the tallest mountain in the world, Mount Everest, in all its majestic glory. This colossal peak rises to an awe-inspiring height of 8,848 meters (29,029 feet), and there's no other way to appreciate its grandeur quite like this.
What's even more remarkable is the affordability of this adventure. The price you pay for an Everest Mountain Flight is a mere fraction of the cost associated with trekking to Everest Base Camp or attempting to conquer the Everest summit. This makes it accessible to a wide range of travelers, ensuring that this experience isn't exclusive to the most intrepid explorers.
For those who find themselves short on time or the physical prowess required for trekking, this flight is an absolute godsend. In just one hour, you'll be immersed in the Himalayan wonderland, a feat that would otherwise demand weeks or even months of strenuous effort.
To add to the allure, many airlines provide passengers with a souvenir certificate upon completing the flight. This certificate serves as a tangible keepsake of your incredible journey, a testament to the heights you've reached and the beauty you've witnessed.
Everest Mountain Flight Ticket Booking, Payment, and Cancellation Policy
Booking, payment, and cancellation policies for the trip with Himalayan Scenery Treks and Expeditions are as follows:
Booking
When booking a helicopter tour to Everest Base Camp with Himalayan Scenery Treks and Expeditions, you have several convenient options. Typically, to secure your reservation, you will need to make a deposit of at least 30% of the total tour price. The remaining balance can be settled at least one day before the tour departure at the company's office. Payment options include cash, cheque, card, or bank transfer. However, please note that if you choose to pay by card, a 4% bank charge will be added to your payment.
Payment
Once you have made the booking for the helicopter tour to Everest, you have one day left to pay the full tour amount. Upon payment of the entire price, Himalayan Scenery Treks and Expeditions will provide you with a ticket for the helicopter journey to Everest. Payment methods accepted include cash, cheque, card, or bank transfer. If you opt for card payment, please be aware of the 4% bank charge that will be applied.
Cancellation and Refund Policy
Understanding the cancellation and refund policy is essential, as circumstances can change. Here's how the policy works:
If you cancel your tour 30 days or more prior to the scheduled flight, you will receive a full refund of your deposit.
If you choose to cancel the tour 29 days before the flight, you will receive an 85% refund of your deposit.
For cancellations made 15 days before the flight, a 75% refund of your deposit will be provided.
If you decide to cancel the tour one week prior to the flight, you will receive a 50% refund of your deposit.
Cancellations made one day prior to or on the same day as the flight will not be eligible for any refund.
In cases where the tour is canceled due to adverse weather conditions, Himalayan Scenery Treks and Expeditions will be responsible for refunding your entire deposit.