The Everest Base Camp Helicopter Tour is a unique adventure. Instead of embarking on a long trek, you get to fly close to Everest (8,848 m) and many other majestic peaks like Lhotse, Nuptse, and Makalu. With breathtaking aerial views of the Himalayas, it's a dream come true for photography enthusiasts. From a bird's-eye view, you'll witness the stunning beauty of the Khumbu Icefall and the lush greenery of Sagarmatha National Park.
The Everest base camp helicopter tour with a landing flight is one of the most thrilling tours. The helicopter touches down at Kalapatthar, which boasts unmatched views of peaks such as Ama Dablam, Island Peak, and Cho Oyu. As you soar high, you'll also have the privilege of flying over quaint Sherpa villages, and ancient monasteries and witnessing the vibrant fluttering prayer flags, which are colorful cloths believed to spread goodwill and compassion into the surroundings.
The journey doesn't solely revolve around Everest. It offers glimpses of other towering giants of the Eastern Himalayas, including Kanchenjunga, Thamserku, Cholatse, and numerous others. These mountainous sentinels stand tall, overshadowing the picturesque valleys below. The sight of these mountains, paired with the Sherpa villages nestled among them, offers a magical experience.
Safety and expertise are paramount for this trip. An experienced team, comprising a captain and crew, ensures that every moment of the journey unfolds seamlessly. With the helicopter designed to carry up to 5 people, it offers an intimate and cozy group experience. Every necessary safety measure is diligently adhered to, ensuring passengers have a memorable and secure journey.
Beyond the sheer thrill of sightseeing, this tour embodies respect for the environment and local communities. As travelers glide over the region, they're made aware of the importance of preserving these awe-inspiring landscapes. Furthermore, the journey serves as a testament to promoting and cherishing local culture and values, encapsulating the essence of adventure intertwined with learning.
Everest Base Camp Helicopter Tour Duration
The 1-day heli tour to Everest Base Camp is a swift yet comprehensive journey through some of the Himalayas' most iconic landmarks. While the entire helicopter experience spans around 4 hours, it strategically incorporates stops to enhance the experience and provide moments of respite and exploration.

Lukla Airport Stop
The 1-day heli tour to Everest Base Camp kicks off with its first stop at Lukla Airport. Travelers get around 4-5 minutes here. While the helicopter undergoes refueling, passengers can savor the bustling atmosphere of this famous starting point for Everest treks.
Pheriche Stop
The journey progresses to Pheriche, where the tour allocates approximately 30 minutes. This span allows visitors to stretch their legs, and take some deep breaths of the fresh mountain air. You will also appreciate the serene beauty that engulfs this location.
Kalapathar Stop
Then comes the much-anticipated stop at Kalapatthar. The duration here is the shortest, ranging from 5 to 10 minutes. While it might seem fleeting, the time is profoundly impactful. The unobstructed views of Mount Everest from this vantage point are unparalleled, making every second invaluable.
Breakfast at Hotel Everest View
Concluding the tour is a relaxing stop at the Hotel Everest View for breakfast. Amidst the 4-hour trip, this 1-hour pause provides an opportunity for passengers to enjoy a hearty meal at a feasible cost. It is also complemented by panoramic vistas of Everest and its majestic neighboring peaks.
What to Expect in Everest Base Camp Helicopter Tour?
Going on the Everest Base Camp Helicopter Tour is like opening a book full of magical pictures. From the moment you lift off until you touch back down, every scene is worth capturing with your eyes and cameras. But what makes this tour so special? Here are some of the best things you'll experience during this incredible journey:
Aerial Views: Imagine seeing the towering Himalayas from above. The snowy peaks and deep valleys look even more magical from the sky.
Everest Up Close: Yes, you'll get a close look at the world's tallest mountain, Everest. It's a sight you'll never forget!
Sherpa Villages: Flying over Sherpa villages, you'll see cute little houses and farms. It's a peek into how mountain people live.
Glacier Views: The Khumbu Icefall and glaciers shine like giant mirrors. Seeing them from above is truly special.
Kalapatthar Landing: Landing at Kalapatthar is thrilling! It's one of the best spots to see Everest and other big mountains around.
Sacred Sites: You will spot Tengboche and Dingboche monasteries and fluttering prayer flags. They add a touch of culture to the natural beauty.
Everest Base Camp Helicopter Tour Cost Breakdown
The cost for the EBC Heli Tour ranges according to the type of package option you choose. The available package options for this trip are just two; namely: Group Option and Private Option. In the case of the Group option, you can join other fellow travelers to reduce the cost. The cost of the Private option will be higher as you choose to be left with only the members of your family or friends.
Here is a detailed breakdown of the Everest Base Camp Helicopter Tour Cost:

You can also send us your quick inquiry on WhatsApp.
Preparing for Everest Base Camp Helicopter Tour
Preparing for the Everest Base Camp Helicopter Tour package requires a blend of logistical planning, packing essentials, and understanding what to expect. Here's a guide to help you get ready for this exhilarating experience:
Health Precautions
Even though you're not trekking, the altitude can still impact some people. Familiarize yourself with the symptoms of altitude sickness.
Consult with your doctor before the tour, especially if you have pre-existing health conditions.
Stay hydrated during the tour. Drinking water can help alleviate minor symptoms of altitude sickness.
Packing Essentials
Clothing: Layered clothing is key. Even if the day starts warm, temperatures can drop significantly at higher altitudes. Bring a light jacket or windbreaker.
Sunglasses and Sunscreen: The sun can be intense at higher elevations, so protect your eyes and skin.
Camera and Binoculars: You'll want to capture the breathtaking views!
Snacks: While there's a breakfast stop, having some energy bars can be handy.
Personal Medications: Bring any personal medicines you might need, and perhaps a small first aid kit.
Safety Measures
Always listen to the crew's instructions. They're trained for high-altitude flights and know the safety protocols.
Ensure your seatbelt is fastened whenever you're in the helicopter.
If you feel discomfort due to altitude or motion, inform the crew immediately.
Booking and Logistics
Choose a reputable tour operator. Look for reviews and testimonials. Choosing one of the best tour operators like Himalayan Scenery Treks and Expedition will easily help you manage your Everest Base Camp Helicopter Tour Cost.
Understand the cancellation policy. Weather in the Himalayas can be unpredictable, leading to potential last-minute changes or cancellations.
Be at the pickup location (usually in Kathmandu) early. It helps to start the tour without any rush.
Environmental and Cultural Respect
The Everest region is not only naturally beautiful but also culturally rich. Respect local customs and traditions.
Consider the environmental footprint of the tour and think of ways to offset it, perhaps by supporting local environmental initiatives.
Mental Preparation
While it's a scenic tour, flying in the mountains can be a different experience. Prepare yourself mentally for the ups and downs, the close mountain passes, and the vast landscapes.
Best Season for Everest Base Camp Helicopter Tour
The Everest Base Camp, with its unparalleled beauty, is a destination that calls to travelers all year round. Opting for a helicopter tour offers an exclusive perspective of this majestic region, but when is the best time for this aerial journey?
Spring, spanning from March to June, is one of the most favored times for Everest excursions. This season unveils blooming rhododendrons, coupled with clear skies, offering a visual treat. The relatively warmer temperatures during these months make the helicopter ride a pleasant experience. It's also the time when trekkers make their way to the base camp, adding a vibrant touch to the region.
As we transition from the lively spring, autumn arrives, stretching from September to December. Post the monsoon rains, the atmosphere is fresh, and the clarity of the skies is unparalleled. The landscapes take on a golden hue during this period, turning every aerial view into a picturesque canvas. The cool, non-extreme temperatures of autumn provide a crisp feel of the mountains.
Winter, which starts in December and runs through February, offers a more serene and exclusive experience. The trails are less busy, and the snow-clad landscapes are breathtaking. While the beauty is undeniable, the winter chill can be intense, emphasizing the importance of dressing warmly. Although clear skies are a frequent winter sight, the mountains' unpredictable nature becomes more prominent.
Summer, or the monsoon season from July to August, is a unique time for the Everest region. The heavy rains paint the landscapes a vibrant green, giving life to the flora. However, this season has its challenges. Rainy conditions lead to occasional flight cancellations, as the combination of the Himalayan terrain, clouds, and rain can pose flying risks.
Note: The Everest Base Camp Heli Tour Cost will not change according to season.
Options for Everest Base Camp Helicopter Flight Tour with Landing
Now, if you want to do this trip, there are different routes the helicopter can take. Some paths start from the big city of Kathmandu, and others start from places like Lukla, Namche, or Dingboche! At some point during the ride, the helicopter will land near Everest, and you can step out and feel like you're on top of the world!
You can go on this adventure in 2023 or 2024 because we're taking bookings now! Let's see what options we have:
Route Option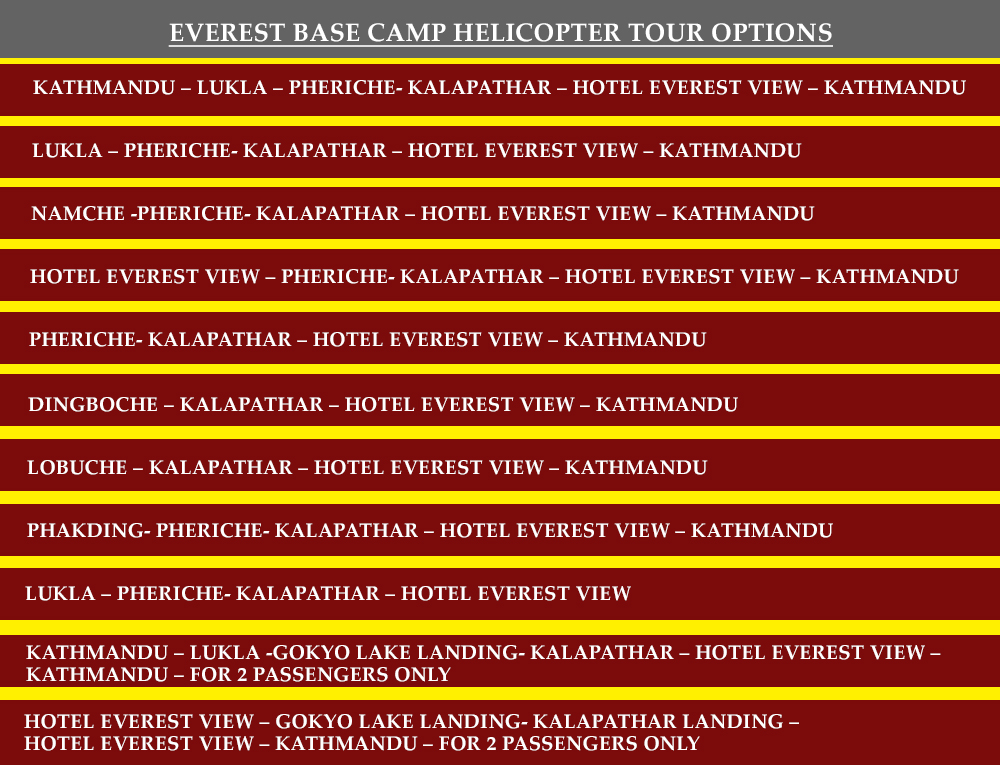 These options easily affect the price of the Helicopter Tour to Everest Base Camp. This is because the distance and cost inclusion might be reduced or increased.
Package Option
Choosing the right package for a helicopter tour is like picking your favorite ice cream flavor. It's all about what you prefer!
Private Helicopter Tour
With the Private Helicopter Tour, it's just you and your group, with no other people included. That means if you have up to 5 friends or family members, you can all hop on together. One special feature is that when there are 5 of you, we'll have a double shuttle from Pheriche to Kalapatthar and back, all because of the high mountains. However, the cost of a Private Helicopter Tour is quite high. Then, everyone gets to fly together again all the way to Kathmandu.
Group Joining Helicopter Tour
If you like making new friends, the Group Joining Helicopter Tour is for you! You can join up to 5 people in this group. It's like going on an adventure with fellow explorers. Just like the private tour, when there are 5 travelers, there will be a double shuttle moving between Pheriche and Kalapatthar due to the altitude.
This is a budget-cost option for you as you are sharing the Helicopter Flight with other fellow travelers. From Pheriche, a single journey takes everyone back to Kathmandu, wrapping up an exciting day.
Booking, Payment, and Cancellation Policy of Everest Base Camp Helicopter Tour
Let's talk about how to book your helicopter tour, how to pay, and what if you need to cancel. When you decide to go on the Mt. Everest Base Camp Helicopter Tour, you'll need to make a booking. This is like reserving your seat. Then, you'll make a payment, which is simply buying a ticket. But sometimes, plans change. If you can't go anymore, there's a cancellation policy that tells you what happens next. It's always good to know these things before an adventure!
Booking
For Booking the Helicopter Tour with Himalayan Scenery Treks and Expeditions, you'll get more feasible options than anywhere. Usually, for early booking of the helicopter tour to Everest Base Camp, you need to at least deposit 30% of the total cost. The rest amount you can pay at least a day prior at our office, by cash, cheque, card, or bank transfer. (But remember if you pay us by a card, an extra 4% bank charge will be added to your payment.)
Payment
Once you book the helicopter trip to Everest, you have only a day left to pay the whole amount just prior to your departure from Kathmandu. Once you pay the full cost HST will provide you with a ticket for the helicopter journey to Everest.
You can pay the amount by cash, cheque, card, or bank transfer. (If the card payment option is chosen then the bank will charge you a 4% bank charge.)
Cancellation and Refund Policy
We cannot say the time is always feasible for either you or us to drop your EBC heli tour plan. So, here we have made it easy for you to understand how the cancellation and refund policy works:
If you have canceled the tour 30 days prior to the day of the flight, all the deposit will be refunded.
If you cancel the tour 29 days prior to the day of the flight, we will refund 85% of your deposit.
If you choose to cancel the trip 15 days prior to the flight, we will refund only 75% of your deposit.
If you cancel the trip 1-week prior to the flight, only 50% of your deposit will be refunded.
If you cancel the trip 1 day prior or on the same day of the flightthen we will not be able to give you any refund back.
However, sometimes the trip gets canceled due to bad weather, in which case HST is liable for refunding every penny of your deposit.
Departure Note
We have everyday flights flying to Everest Base Camp by helicopter. However, all the flights are packed almost every day, so it is better to book the trip right now. For more information:
Contact us through WhatsApp: +977-9851083619 (Ram Krishna Timalsina) or send us your query at: info@himalayanst.com.