What comes to your mind when you think about Trekking in Nepal? Nepal is the country of contrast, as you can find the abode of the living goddess, Kumari, and temples in every corner. Nepal is a piece of paradise full of natural beauty and diverse culture and landscape. Hiking through the trail, enjoying the tranquility of nature, adventure in the wilderness, picturesque scenery, and many more. Nepal is a natural heaven for nature lovers and adventure seekers.
For many people who think of trekking in Nepal, the first thing in their mind is Everest Base Camp Trekking. Hiking through the trails of Everest, passing the small settlements of Sherpa decorated with fluttering prayer flags, passing the alpine forest, experiencing the nomad culture of Buddhism, crossing the Khumbu glacier, and finally reaching the foothills of the highest peak on the planet, Mount Everest (8848.86 meters), is a once in a lifetime experience. The trekking trail of Everest Base Camp Trekking is full of adventure, and thrill and once you finish this amazing trek, you will have your own tail to say to your friends and family.
Although Trekking to the Base Camp of Everest for many, this part receives way lot more travelers than other trekking routes in Nepal, making the trail chaotic during the peak season. Many travelers who choose solo trekking over guided trekking to the Everest Base camp find it difficult to manage accommodation as all the tea houses and guest houses are overbooked and a very small place to accommodate the large number of visitors making their way to base camp. If you are not familiar with the locals finding accommodation for the overnight stay will be a daunting task due to communication problems and overbooked teahouses.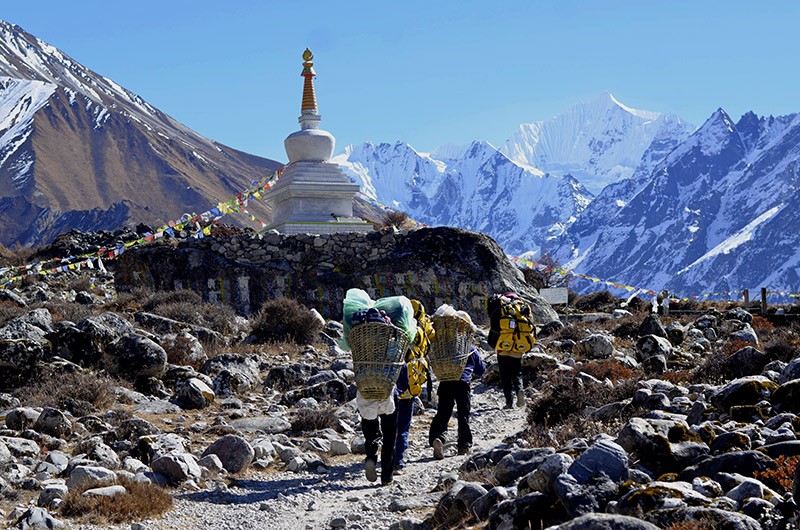 Porters Carrying Luggage in Everest Region
If you are dreaming of trekking to the crowd-free trekking routes in Nepal, then Everest Base Camp Trekking is not a favorable choice for you. However, there are many alternatives you can choose for trekking in Nepal besides Everest. Some of the most popular trekking routes fully loaded with natural beauty, and awe-inspiring sceneries are trekking in Annapurna Region or Dolpo Region. Besides this are also many virgin places that are yet to be discovered in Nepal. Trekking in such a part of Nepal will be a totally new experience for you.
Nepal is promoting its new slogan as "Naturally Nepal" because of the abundance of Natural Beauty scattered all around this beautiful country tugged in the Himalayas. Nepal is the home to the world's highest peak Everest standing at an elevation of 8848.86 meters (29031.69 ft.); which is the new height of Mount Everest (Chomolungma); according to the latest survey done jointly by Nepal and China. Moreover, Nepal is also known as the country of contrast as this country encompasses the world's highest peak to the deepest George - Kaligandaki, with a distance of 325 KM.